"First class and cheap dental implants with experienced and reliable dentists in the safe heart of Europe."
Bavaria Dental Budapest – All Inclusive Dental Clinic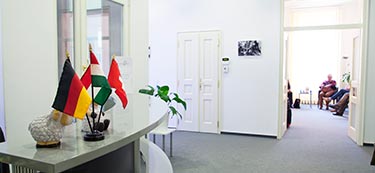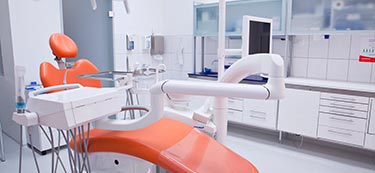 Do you want to be over your dental treatment fast? Get your dental treatment abroad with immediate loading implants within 3-5 days. Learn more about the procedure in our dental clinic in Hungary, Bavaria Dental Budapest. 
This is a Swiss minimal invasive implantation procedure, with a 98.2 % success rate. These immediate loading implants are made of titanium; therefore there is no need of cost-intensive connection parts (screws, mounting posts, impression posts). Immediate loading means that the dentures can be fixed on the implants immediately, whereas conventional two-phase implants require a healing period of 3 to 6 months between surgery and prosthetics.
In the modern Bavaria Dental Budapest clinic, orosurgical and prosthetic dental treatments are performed promptly, professionally and inexpensively by dentists. As services are based on international customers, the communication has no language barrier.
The enormous cost savings are a result of lower wages and rents, as well as the lower laboratory costs of the manufacture of bridges, tooth crowns, inlays and much lower administrative costs and hurdles. The dentists of Bavaria Dental Budapest work, in contrast to other countries, free from insurance constraints and therefore are not forced to cover their costs for smaller works through larger works, such as implantations.
Other dentists however, have firm guidelines on what they can take from insurance covered patients for a particular treatment, e.g. 11,-£ for pulling a tooth. Many clinics, such as Bavaria Denal Budapest, are therefore dependent on a "cross-subsidization" of individual health services and services for private patients in order to economically survive.
These problems are not exposed to our dental clinics, so neither to Bavaria Dental Budapest, and dentists and may therefore offer bigger treatments at much more affordable prices than in the US. These much cheaper prices do not have an impact on the quality of your treatment of any kind.
Dentists in Bavaria Dental Budapest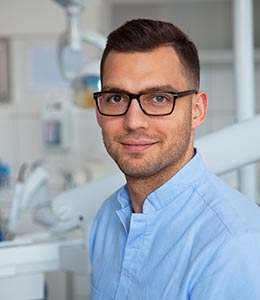 Dr. Soma Veszprémi
Area of expertise: Chief doctor, oral surgery, cosmetic dentistry
Languages: English, German
Personal: His main interests are in implantation, the metal-free dentures and cosmetic dentistry. Even after he has completed his studies, has he provided dental care to many patients from abroad. It is important to him, that he builds a certain friendship with his patients.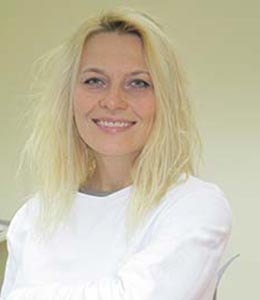 Dr. Nóra Fazekas
Area of expertise: Implantology, periodontal surgery, dentoalveolar surgery
Languages: German
Personal: Completed her board exam in oral surgery in Frankfurt. Her focus is on the dentoalverolar surgery with special knowledge in tooth rescue and their reimplantation. When she was in Germany, she was a part of the research group in the department of ZMK Oral and Maxillofacial Surgery at the University Hospital in Giessen.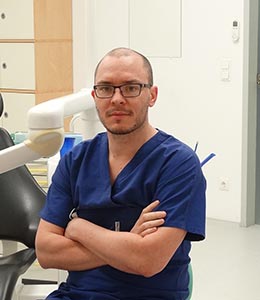 Dr. Adorján Szakál
Area of expertise: Dentoalveolar surgery, general dentistry
Languages: English, German
Personal: Has mastered his studies at the famous Semmelweis University. Through many internship opportunities, as in a military hospital or private clinic. he has gained a lot of experience. He believes that a detailed check up and planning lead to the best result, so that all will be satisfied.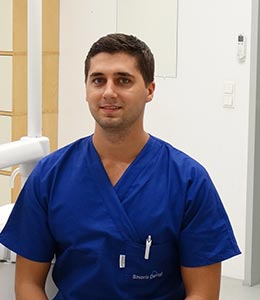 Dr. Ádám Bodnár
Area of expertise: Oral surgery, general dentistry
Languages: English, German
Personal: He completed his studies in general dentistry and oral surgery at the famous Semmelweis university. After graduating, he has treated international patients for sveral years in private clinis and then joined the dentists team of Bavaria Dental Budapest. A friendly relationship with the patient is extremely important to him.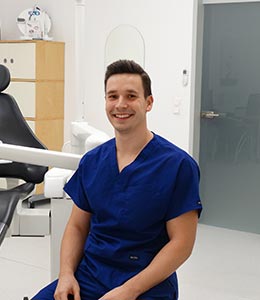 Dr. András Schandl
Area of expertise: Dentoalveolar surgery
Languages: English, German
Personal: He studied at the Semmelweis University and then practiced in the military hospital, health centers and private clinics in the military hospital where he treated mainly English and German patients. He is very precise and careful with his work.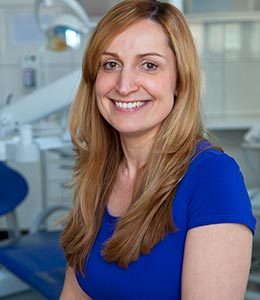 Dr. Diána Sedlmayer
Area of expertise: General dentistry, cosmetic dentistry
Languages: English, German
Personal: After her university degree at the Semmelweis University, she has worked in a famous Hungarian hospital, then in an international dental clinic. Accuracy is extremely important for her, because only then can the desired result be achieved.
-