"First class and cheap dental implants with experienced and reliable dentists in the safe heart of Europe."
New smile with minimal preparation
The possibilities of the cosmetic dentistry are almost
endless in our modern days. It does not matter whether your teeth are damaged by caries or otherwise, if they are root canal-treated or just inherently badly grown, with an uneven surface or shape. In all cases they are easy to fix with several dental cosmetic procedures. In the past, to cover aesthetic teeth problems the only solution was the placement of a crown. But the main disadvantage of that method was that the dentist had to grind down a large portion of the tooth. Today's porcelain veneers or lumineers represent a much less invasive and a more aesthetic solution: the dentist can reshape teeth in a way that no one realises they are actually not natural teeth.
Porcelain veneers or lumineers ensure not only bright white teeth, which you have always wanted. They also offer a solution to a lot of other problems, such as twisted, broken, cracked, or even too short teeth.
FAQ about veneers and lumineers
Procedure of porcelain veneers
The placement of a so called shell or several shells generally needs two sessions. A consultation and preparation takes place during the first appointment. In the second session the dentist places the finished work on the tooth – or teeth, since more teeth can be treated at once.
Diagnosis and preparation of the treatment plan: Here the patient and the treating specialist consult about the teeth that need treatment. They discuss the desired and possible shape, the color of the veneers, and what results can be achieved. The dentist examines the current state of the teeth thoroughly and makes an x-ray.
Preparation: The dentist, in order to be able to place a porcelain veneer, must grind down up to half a millimeter tooth substance. This width corresponds to the width of the veneers. Before grinding down, the patient receives an anesthetic injection, thus they feels no discomfort. After the dentist has prepared the tooth/teeth, he takes an impression and sends it to the technical laboratory.
Placement: Before the dentist places the porcelain veneers permanently, he checks the veneers to see whether color and form have become as desired and whether they fit correctly. Immediately before placing, he cleans, polishes and roughens the surface of the tooth. This procedure is necessary for the perfect adhesion of the shell. After fixing and polishing the veneers, the patient can smile with his shiny new teeth.
Interested? Get yourself a quote for veneers or lumineers in
Budapest/Hungary or learn about the veneers costs.
I want to get a quote
Advantages and disadvantages of porcelain veneers
Advantages:
You can achieve a natural effect
The gums usually tolerate the veneers well
The porcelain veneers do not discolor
With porcelain veneers, you can lighten your natural teeth
The porcelain veneers are nowadays the most suitable solution if you want to change the tooth shape or color – there is no need to grind down a not a lot of tooth substance
Disadvantages:
The process is final, irreversible
Veneers are more expensive than composite fillings
The shells cannot be repaired – if damaged or broken, they must be completely replaced
The color of the shells does not change along with the color of natural teeth. For example, if you plan to have tooth whitening, you should have it prior to placement of the shells
In very rare cases, it may happen that the shells become loose or fall off
With much teeth grinding or hard biting, the veneers can break or get damaged more easily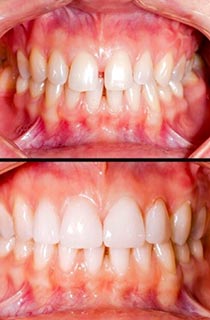 -