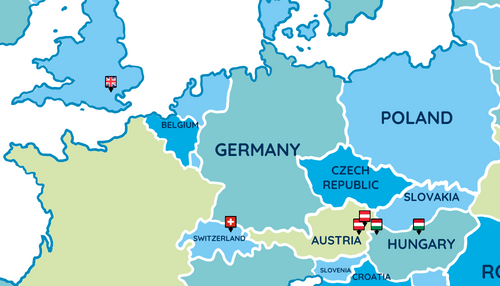 Why do 40% of Europe's dental tourists go to Hungary?
Hungary is a forerunner in dental tourism. More than half a million people cannot be mistaken. Why do thousands of people decide every year to come from the US, Canada to Hungary for their cheap dental implants or any sort of dental work?
It is the high level of safety, expertise, experience and care they get, while they keep the costs of crowns and cheap dental implants low. In the last 10 years almost 600.000 dental patients have visited Hungary to have their teeth repaired and to get their cheap dental implants. Professional background: Hungary has been home to world-class dental schools for more than 100 years. For about 50 years, aspiring dentists from English and German-speaking countries have been coming to Hungary for their education in dentistry because it is considered among the best in Europe. Furthermore, all of these highly trained specialists, the best Hungarian dentists and dental surgeons are working in dental tourism. So you will get higher quality dental work in Hungary than you would get from the average dentist back home.
CHEAP DENTAL IMPLANTS IN HUNGARY
We work with competitive prices that allow you to save between 40% and 60% compared to the prices in the UK, even if you include the travel costs and accommodation. The ratio between the value and the dental implant cost of the dental implants is outstandingly high.
FIRST CLASS CHEAP DENTAL IMPLANTS & TREATMENTS
We work with the highest quality metal-free and titanium implants. All materials used come from Switzerland and Germany. We apply the most innovative dental implant technologies including
All -On -4 treatment.
BEST DENTAL IMPLANT CLINICS IN HUNGARY
We work with the best dental clinics. They are located in the city centre of Budapest and Sopron. They are equipped with the latest equipment and the dentists use the latest techniques. We will help you to choose the most suitable one for you.
BEST DENTISTS IN BUDAPEST & SOPRON
Our dentists have been treating international patients for many years and they meet the highest professional standards. They take part in training courses and head many professional associations. They speak English and are ready to help for all the patientes.
DENTAL IMPLANTS ABROAD: HOW DOES IT WORK?
The entire implantation procedure (from implant to final restoration) varies with each case.
Consultation and planning
E-mail
After the patient has contacted us and has sent us their panoramic x-ray or existing treatment and cost plan, we put together a treatment plan and a quote within 24 hours and send them to the patient with detailed information. In most cases, we send several treatment plans to choose from.
In the clinic
During a consultation and examination in the clinic, our surgeon evaluates the panoramic x-ray and consults with the patient. After discussing the wishes, ideas and possibilities, a bespoke treatment plan is put together.
First treatment: Implantation
During the painless surgical procedure in accordance with the international protocol, the implants are placed into the jawbone. After surgery, the patient gets a removable temporary denture and appropriate instructions for the healing period (time necessary for the bone to recover and for ossification of the implants). If no sufficient amount of bone tissue is available for implantation, a bone graft (also known as bone augmentation) is carried out, often in the same session, to replace missing bone tissue.
Recovery time
During the next 3-6 months of recovery time after the implantation, the implant heals protected by the gums, i.e. the implant integrates into jawbone. During this time, the patient must practice perfect oral hygiene and take medications as instructed.
Second treatment: Final restoration
After the healing phase, the final restoration on the implant or the implants is constructed. There are many types of replacements on implants from simple solutions (single crown on an implant or bridge on two implants) to full restorations (round bridge on 6-8 implants, or removable dentures on less than 6 implants).
Check-up
The long-term success of the implant and the artificial tooth cannot be guaranteed without careful oral hygiene; therefore, it is very important that the patient retains his oral hygiene and improves it, if necessary. As the conclusion of the prosthetic procedure, patients get a professional oral cleaning at the Hungarian clinic.
FAQ ABOUT CHEAP DENTAL IMPLANTS
How much will my dental implants in Hungary cost?
Dental implants Hungary costs
UK
Hungary*
Swiss dental implant

UK* –

2010 £

Hungary* –

from 678 £
Immediate dental implants

UK* –

2750 £

Hungary* –

from 678 £
Tooth crown (Metal-ceramic)

UK* –

540 £

Hungary* –

from 202 £
A dental crown (Zirconia)

UK* –

730 £

Hungary* –

from 392 £
Sinus lift

UK* –

665 £

Hungary* –

from 572 £
*Average prices of the clinics of BestDentalSolutions
*The prices are indicative, the treatment plan and quote is always prepared in Euro. Regardless, it is possible to pay for the treatments in another currency (current daily Eur exchange rate).

How come there is such a big difference in the price?How is it possible that any sort of dental treatment abroad costs 60% less?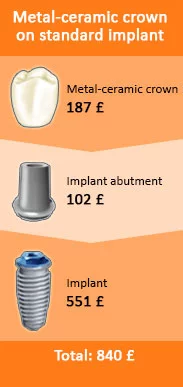 What is the catch? Does a dental clinic on the Continent use inferior materials for their cheap dental implants and dental crowns? Our dental clinics use only the finest Swiss, Israeli, Swedish and German made materials for your dental crowns, veneers, and tooth implants. We use exclusively the latest technologies, such as CAD CAM, CT and 3D teeth implant planning for our dental treatments. But if Hungary is really world famous for its dentistry, why are the dental treatment prices so low?
The reason is simple:
The cost of living is much lower in Hungary, about a third of what it is in the UK. So a dental clinic abroad can afford lower prices. That means it costs us less to give you the same or higher quality service and materials for your dental treatment. The result: you can get world class quality dental services and first class cheap dental implants.
What is a dental implant?
Dental implants replace teeth which are either damaged, fell out or have to be extracted for a certain reason. Dental implants are screw shaped and made of titanium, which is inserted into the jaw bone in the framework of surgical intervention and then allows a fixed replacement.
In some cases, a bone augmentation for implantation is needed. After implantation, a healing period for the ossification of the implant is required in most cases. After the healing phase, the so-called superstructure is made: an implant abutment with crown or bridge.
The price of an implant is influenced by various factors. Implant manufacturers are one of them: for example, a standard implant from the manufacturer SGS with SGS implant abutment and a metal-ceramic crown costs a total of 835 £.
How will my P.A. help me with my dental treatment abroad?
Gets you one (or more) free dental treatment plans
Offers you our Partner Hotels (if needed)
Your dental PA organises your transfer (free of charge) between Airport – Hotel – Airport
Makes sure that everything runs smoothly during your stay
Will be the contact person after your dental treatment
State of the art technology: Modern dentistry
At all clinics, as well as in the dental laboratories, only high-quality, CE-certified and internationally recognized materials are used. Almost all materials are imported from Switzerland, Israel and Germany.
Each of our dental clinics abroad is equipped with the latest technologies such as CAD CAM, 3D teeth implant planning and lasers.
After the dental treatment is completed, our patients receive a warranty card (which in most cases is valid only if they come back for a check-up at least once a year to check the function and stability of the implant), listing the certified laboratory materials used.
QUALITY
What a dental clinic has to have
5 year guarantee
Only swiss, Israeli, and german dental materials
Compliance with the strictest EU regulations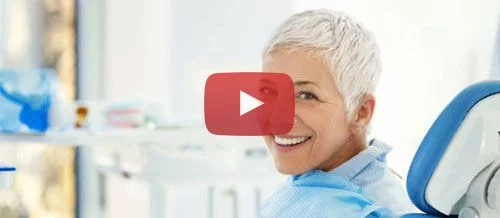 Teeth implants in Hungary from 566 £
70% less than UK prices
Why do teeth implants abroad cost so much less?
We organize your dental appointment
Many accommodation options
Private transfer/driver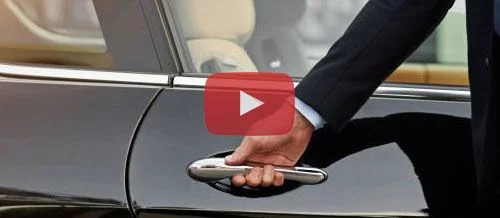 -